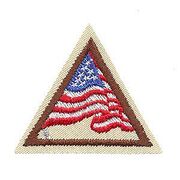 This Try-it was introduced in 1992 and retired in 2011.
The United States of America is a very special country. For hundreds of years, people from other countries have come to visit, live, or work here. Girls try these activities to celebrate what makes America special.
As with all older Brownie Try-its, scouts need to complete 4 activities to earn the badge.
Flag Facts
Edit
Find out some interesting facts about the American flag. Who made the first flag? What do the stars and stripes stand For? Why has the number of stars changed over the years? Share the answers to questions like these with two other people.
Show It Off
Edit
Choose or draw pictures that stand for America. Put them together to make a bigger picture or a collage.
Celebrate
Edit
Plan a celebration for one of these holidays: Independence Day, Memorial Day, Flag Day,or Veterans' Day.
Check It Out
Edit
Walk around your neighborhood and look for things that stand for America. Do you see a monument? A statue? A plaque? A garden, park, or planting? Find out why it was put there.
Through the Years
Edit
Who lived in your community before you? How old is your neighborhood, town, or city? How did it become a community?
Help the country by making your community a better place. Do a good deed for someone else. Tell your parent, guardian, or Girl Scout leader what you did and why it was a good deed.
Additional Resources
Edit