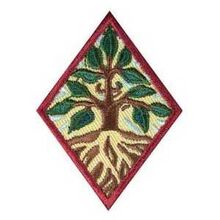 The Trees badge is part of the Legacy badge set introduced in 2011.
Find out all about trees: from the shade to the science, the fruit to the forest, and the legends to the lumber.   
Step 1: Try some tree fun
Edit
What better way to get glad about trees than to spend time with them? Head outside and enjoy the bounty, shade, and delicious fun of trees.
CHOICES - DO ONE:
Edit
Take a tree trip
Design a tree house
Cook a tree dish
Step 2: Dig into the amazing science of trees
Edit
You've got a good idea how much fun trees can be, so take a closer look at just how trees grow. Find out how trees serve the earth, and the plants and animals in their ecosystems - and create a tree souvenir that showcases just how much you know about the science behind the fun.
CHOICES - DO ONE:
Edit
Be a naturalist in your neighborhood
Sketch and level the parts of a tree
Delve into the forest life cycle.
Step 3: Make a creative project starring trees
Edit
Trees have long inspired people to create. Here's a chance to turn your growing knowledge of trees into art.
CHOICES - DO ONE:
Edit
Get tree crafty
Capture a tree on your canvas or page
Create your own tree legend
Step 4: Explore the connection between people and trees
Edit
Food, inspiration and oxygen aren't the only ways trees benefit people. Fuel, medicine and shelter are also crucial to the tree-people connection - crucial, and anything but simple. Naturalists know all the moving parts surrounding their subject, so here's where you get the whole context of the tree relationship.
CHOICES - DO ONE:
Edit
Debate logging, clear-cutting, and de-forestation
Chart how wood travels
Create a dream tree garden
Step 5: Help trees thrive
Edit
Use your tree savvy to get involved in the tree action in your community.
CHOICES - DO ONE:
Edit
Plant a tree
Tend to a tree somewhere in your community
Shadow one of the tree caretakers in your community
Additional Resources
Edit
https://docs.google.com/file/d/0B6ggdlXxWNQ-QXFVOHJCMmZ1LTA/edit
Community content is available under
CC-BY-SA
unless otherwise noted.