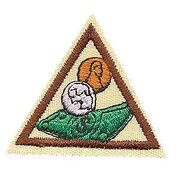 This Try-it was introduced in 1999 and retired in 2011.
Save it, spend it, earn it, borrow it, donate it. Money is an important part of everyone's life. Start now to learn the basics of dealing with money.
As with all retired Brownie Try-its, scouts need to complete 4 activities to earn the badge.
Cookie Dough
Edit
With your troop, write a plan for using the money you earn from the Girl Scout Cooke Sale. (Remember that you may not sell Girl Scout Cookies on the Internet).
Is it Real?
Edit
Counterfeit money is fake money, and it is a serious problem in this country. The colored bills that you may find in a favorite board game are not the problem. Everyone knows that these bills are "pretend" money. The fake money that some criminals make look like real bills. But there are important differences. Find out how the new $5, $10, $20 bills that are made by the U.S. Department of the Treasury can prevent people from using fake money. Ask an adult what you should do if you are given a bill that is not real.
Bank on It
Edit
Most banks are interested in helping children get into the habit of saving. Visit your local bank and find out what you need to do to open a savings account.
The Price You Pay
Edit
Set up a "pretend" store and practice making change. Put price tags on items that you are selling. Set your prices from one penny to one dollar. Your friends can be the customers. They can use pennies, nickels, dimes, quarters, and dollar bills (real or ones you've made) to buy these products. You can give change to your customers. Then change roles so that you have an opportunity to buy and your friends can be the storeowners.
Step Right Up!
Edit
Set up a tag sale with your troop or friends. You can each contribute toys or books you no longer need. Work together with your Girl Scout leader or other adults to set prices and make signs. After the sale, discuss why certain types of items sold well while others did not. Add the money you make to your troop funds.
* * *
Be sure to check with your Council to make sure your troop is authorized to raise funds. Some councils do not allow Troops to participate in fundraisers unless they have participated in both Fall Product and Cookie sales, for example. Even if your council allows extra fundraiser activities, you will probably need permission from your council beforehand.
Keeping Tabs
Edit
Keep track of how much money you use each week. How much do you spend at lunchtime? On treats or toys? For phone calls? If you get an allowance, is it enough for all of these things? If you don't how much allowance would you need? Think of a way that you could save some part of your real or imaginary allowance.
Additional Resources
Edit