We're Getting Mutants in the MCU - The Loop
Play Sound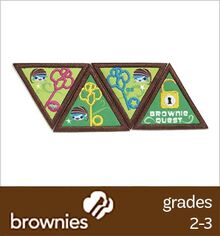 Girl Scout Brownies earn triangle shaped badges, typically edged in brown to match the uniform.
Current Badges, 2011-Present
[
]
In 2011, the Girl Scouts of the USA updated all of the Girl Scout badge programs and retired or remade all of the old ones. It is still possible to earn Brownie awards that have been retired, if you have a copy of the original requirements and can find the badges themselves.
Below is a list of the current Brownie badges:
Legacy
[
]
Financial Literacy Badges
[
]
Cookie Business Badges
[
]
Skill Building Badges
[
]
It's Your World-Change It!
[
]
It's Your Planet—Love It!
[
]
It's Your Story—Tell It!
[
]
Brownie Try-its, 1999-2011
[
]
In 1999, the Try-Its began to be produced with a brown border, rather than the colored borders of the Worlds to Explore era, and were embroidered on ivory fabric. There were fifty-seven Try-Its in the new Try-Its for Brownie Girl Scouts published in 2001. When girls completed any four activities in a Try-It, they could receive the award to wear on their sashes or vests.
Try-Its for Brownie Girl Scouts introduced twelve new Brownie Girl Scout Try-Its and renamed other Try-Its.
A new Try-It called "Wave the Flag" was introduced in 2002.
Below is a list of the retired Brownie Try-Its:
Brownie Worlds to Explore Try-Its, 1986-1998
[
]
In 1986, a new Brownie Girl Scout handbook was published. Brownie Girl Scout Try-Its became a unique feature of Brownie Girl Scouting. They were noncompetitive recognitions that Brownie Girl Scouts could receive to symbolize participation, not performance, in selected activities.
Each Try-It contained six activities and Brownies had to complete four of the six activities in order to receive a Try-It Patch.
Originally there were fifteen Try-Its in all--three for each of the five worlds. The patches were triangular in shape and embroidered in bright colors on ivory twill, measuring approximately 2" x 1 3/4". Each Try-It utilized one of the five colors of the Worlds to Explore program on its border.
In 1988, the Our Own Council's Try-It, a blank Try-It for council use, was approved. Additional Try-Its were developed in response to direct requests from numerous councils. In 1989, More Brownie Girl Scout Try-Its was published, which featured twenty new Try-Its, four in each world of interest. The new Brownie Girl Scout Handbook published in 1993 introduced six new Try-Its. The former Plants and Animals Try-It was divided into two separate Try-Its, each with a new design. Some Try-Its had name changes. In 1997, a supplementary twenty-eight page booklet, Brownie Girl Scout Try-Its, introduced another five Try-Its.
Below is a list of the retired Worlds to Explore Brownie Girl Scout Try-Its:
Brownie Girl Scout Pre-Try-Its
[
]
"Before the launch of the current Try-its program of triangular shaped badges, GSUSA researched and studied a variety of council programs of earned badges for Brownies. Little information remains on these pre-Try-its, but they are often found on Brownie sashes and vests."[1]
Brownie Bs, 1977-1986
[
]
"A set of three Brownie B patches was introduced in 1977. These official patches, a form of noncompetitive recognition, were worked on by the entire Brownie Girl Scout troop, and each patch represented a year's participation in Brownie Girl Scout activities."
"The patches were wedge-shaped, measuring approximately 1 1/4" at their longest point. Each of the three patches had an embroidered tan else in the center. A yellow Brownie B patch was used for the first year; red, the second year; and blue for the third year. The Brownie B patches were discontinued in 1986 with the introduction of the Brownie Girl Scout Try-Its."
Other Resources
[
]