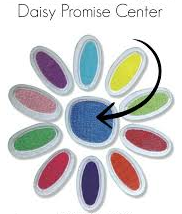 The Amazing Daisy Promise Center is center part of the Daisy flower.
For the badges released in 2011, scouts must complete all of the activities listed to earn the badge.
Activity #1: Make a Daisy Circle
[
]
Activity #2: Say the Girl Scout Promise
[
]
If you have any older scouts in your troop or a nearby troop, try to enlist them to teach the Daisies the promise. A great way to "be a sister to every girl scout." We did this with our multi-level troop, pairing up older/younger girls. Then had the Daisies come together the next meeting to recite the promise for their Promise Center.
This activity could also be useful for Daisies getting ready to bridge to Brownies. They can use this as a way of showing the younger girls something about Girl Scouts and being a Daisy.
Activity #3: Talk about What It Means To You
[
]
Additional Resources
[
]
The Promise Center, A guide for earning the Daisy Promise Center