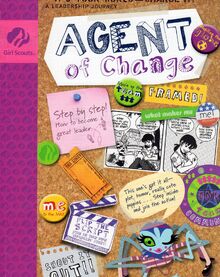 The Agent of Change Journey is part of the "It's Your World—Change It!" series.
The Journey
[
]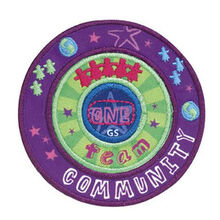 In this Journey, you will:

[

]
Explore how powerful individual women have been throughout history, how your own individual powers can be linked together to create a powerful team, and how your team power can become community power.
Plan a Take Action project that helps others.
Earn 3 leadership awards: Power of One, Power of Team, and Power of Community. If you're a Girl Scout volunteer, go to Volunteer Toolkit for complete meeting plans and activity instructions.
Learn more about how to earn your Take Action Award — and help your community — with the Girl Scout Take Action Guide. Then use your leadership skills to earn your Bronze Award, the highest award for Girl Scout Juniors!
Skill Building Badges
[
]
Additional Resources
[
]
Fiction
Non-Fiction

Songs

Websites
Take-Action Project ideas
[
]
Having trouble figuring out possible Take-Action projects? Look for ideas on the Take Action Project ideas page.
Girl Scout Junior Troop 80342 hosted a Badge Day] for all Pembroke Girl Scout Brownies on March 31st. The Juniors set up five science experiment stations. The Brownies got to make handmade ice cream, create tie-dye milk, use static electricity to make salt and pepper dance, blow up balloons without using their breath, and make raisins dance in liquid. The Brownies earned the Home Scientist Badge for their efforts. The Juniors completed their Agent of Change Journey Award by planning and hosting the event. All the girls had a terrific day while learning about science.