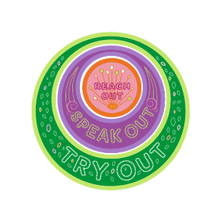 The aMUSE Journey is part of the "It's Your Story—Tell It!" series.
In this Journey, you will:
Explore roles you play in your life and try on new ones—play a role-playing game, invite actors to talk about the characters they've played, or learn to spot stereotypes on TV, in movies, or in ads.
Plan a Take Action Project, such as putting on a performance that creatively urges an end to stereotyping, drawing a graphic novel to share with younger girls, or starting a "mix it up" day in the school cafeteria and having girls sit with new people.
Earn 3 leadership awards: Reach Out!, Speak Out!, and Try Out! If you're a Girl Scout volunteer, go to Volunteer Toolkit for complete meeting plans and activity instructions.
Learn more about how to earn your Take Action Award — and help your community — with the Girl Scout Take Action Guide. Then use your leadership skills to earn your Bronze Award, the highest award for Girl Scout Juniors!
The Journey
[
]
Reach Out!
[
]
Juniors will earn this award when they understand the many roles women and girls play in the world around them and the leadership skills used to play them. Earned through:
Flurry of Roles (Week 1)
Logs and Leaders (Week 2)
Panel (Week 3 & 4)
[

]
Speak Out!
[
]
Juniors will earn this award when they are aware of how stereotypes could hold themselves and others back from trying on roles, and they Take Action to help stop stereotypes.
Role Play Switcheroo (Week1)
Quick Draw (Week 2)
Stereotype Shredding (Week 5)
Speak Out project (Week 5, 6 and 8)
[

]
Try Out!
[
]
Juniors will earn this award when they have the courage and confidence to try out new roles.
Me and You (Week 7)
My "Role Call" Log (Week 7)
Listening to Your Inner Critic and Me x 3 (Week 7)
[

]
Badges
[
]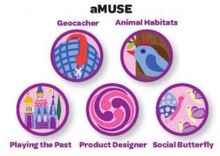 Additional Resources
[
]
Arts and Crafts

Fiction
Non-Fiction

Songs
Yes She Can. Our girls loved singing the Yes She Can song as part of their performance to the parents sharing what they learned in their journey.
Websites
[A Mighty Girl]. Check out A Mighty Girl website for lots of fiction and non-fiction stories about girls and women who make their world a better place.
Take-Action Project ideas
[
]
Having trouble figuring out possible Take-Action projects? Look for ideas on the Take Action Project ideas page.