The Three Cheers for Animals Journey is part of the "It's Your Story—Tell It!" series.
In this Journey the flower friends will tell stories of visits to their homelands. The Daisies will learn to see that differences are what make people, places and animals unique and interesting. The girls should learn that differences and similarities are to be respected and appreciated.
The Journey
[
]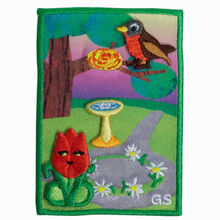 Birdbath

[

]
Daisies learn to care for animals and for themselves. Daisies earn this award by naming one way they can care for animals and one way they can care for themselves.
Daisies use their new knowledge and creativity to teach others how to care for animals. Daisies earn this award by sharing animal care tips with others and by telling the "story of animal care" in a creative way with a Red Robin Project.
Tula

[

]
Daisies have gained courage and confidence in teaching others about animal care. They share with one another the good feelings they experienced as they taught others in their community about animal care.
In this Journey, you will:

[

]
Find out what animals need and how to care for them—go on nature walks to observe animals; visit a farm, zoo, or animal shelter; or create an animal sculpture.
Plan a Take Action project that teaches others how to care for animals.
Earn 3 leadership awards: Birdbath Award, Red Robin Award, and Tula Award. If you're a Girl Scout volunteer, go to Volunteer Toolkit for complete meeting plans and activity instructions. 
Learn more about how to earn your Take Action Award — and help your community — with the Girl Scout Take Action Guide.
Getting Started
[
]
Before you begin this Journey, take a few moments to familiarize yourself with the following session outlines as well as the girl book and adult guide for 5 Flowers, 4 Stories, 3 Cheers for Animals. It is helpful to read pages 8-25 of the adult guide and then read the story in the girl book. Once you have reviewed these, use the session outlines and the adult guide to review each week's activities. You know your group and some activities might need to be modified before beginning. Of course, you don't have to follow the guide or booklet word for word— once you get a topic started, listen for where girls want to take it! Use the supply list to prepare for your meeting. Then send an email to the families afterwards to tell them what the girls learned and upcoming events. Consider planning a field trip or two that relate to the Journey. There are a few ideas on page 3 of this packet.
Story Time

[

]
This series invites girls into the fun world of storytelling. During this Journey, the Daisies hear the flower friends' stories and tell their own stories. Storytime is built into many sessions; it would be helpful to find creative ways to tell the stories. You may want to invite in older girls to help you, use hand gestures or different voices for different characters. Don't be afraid to perform the story! If time doesn't allow, you might also consider paraphrasing the story or having the girls read at home with their family.
Helping Girls Take the Lead

[

]
Here are some easy tips to let the girls take the lead:
Have girls sign up for roles to lead each part of the meeting including taking attendance, leading the
Girl Scout Promise and Law and more!
Let the girls lead songs and games. You may have to teach them the first time around, but they will get
the hang of it very quickly. Also, girls may have their own games and songs to teach you!
Keep an eye out for girls who have not expressed their opinion during the meeting.
Initiate a voting system to vote on new ideas so every girl is heard.
Supplies Needed by Week:

[

]
All Weeks:
5 Flowers, 4 Stories, 3 Cheers for Animals! - adult guide
5 Flowers, 4 Stories, 3 Cheers for Animals! - girl book (one for each girl)
Poster of the Girl Scout Law – use one that shows the flowers and the part of the law they symbolize
Snack (optional)
Mural from previous weeks
Week 1

[

]
Beanbag
Picture of a bald eagle
A roll of white paper
White paper (full sheets)
Crayon/makers
Feathers
Glue
Strips of newspaper and white paper
A large bowl covered in foil
A few smaller bowls or cups for the paste mixture
Water
Liquid measuring cup
Color tissue paper (dark brown, light brown, white, yellow and blue)
Cheap small paintbrushes (foam ones work well)
Week 2

[

]
A few pictures of a lion
One brown lunch sack or paper bag for each girl
Sticks, tissue paper, feathers and other supplies for the nest
Assorted craft materials
Glue
White paper
Markers/crayons
Week 3

[

]
Picture of a robin
Paper
Pencils
Assorted craft materials
Oranges, cut in half ahead of time.
Toothpick (for poking holes in the oranges)
String that is sturdy, but not too thick for the holes created by the tooth picks
Small bowls for bird feeder materials
Peanut butter or suet
Oats, sunflower seeds, peanuts or other food for birds
Plastic bags
A craft stick to mix the ingredients together
Cheerios
Week 4

[

]
Picture of a donkey
Postcard size paper
Markers or crayons
Week 5

[

]
Soft music for yoga (optional)
Picture of a panda
Origami paper (at least 2 sheets per girl)
White paper
Pencils
Week 6

[

]
Picture of an elephant
Obstacles for the Elephant Parade
Supplies for the Red Robin Project (crafts, music, etc.)
Week 7

[

]
Birdbath (made in Week 1)
Robin (possibly made in Week 1 or you might need to make one)
Anything the girls may need for their Red Robin Project
Make a small papier mache or felt Red Robin
More to Explore – Adding to Your Journey Experience
o Visitaplacewithanimals:
• A local zoo
• Pet stores, animal shelters or veterinarian officeso Findouthowanimalshelphumansbyvisitingadairyfarm
o Aveterinarianorsomeonewhoworkswithanimalso Along-termpetowner o Peoplewhofoster/rescuepets o Someonewhotrainsserviceanimals o Someonefromalocalanimalshelterorzoo
o Connect with a local non-profit that helps animals and see if there are any projects the girls
could make that would benefit the animals such as dog toys, dog treats and event no-sew dog beds.
Additional Resources
[
]
https://www.girlscoutsksmo.org/forgirls/daisies/Documents/Daisy%205%20Flowers%204%20Stories%203%20Cheers%20for%20Animals%20Full%20Journey.pdf